Supplied Content by HS2 Ltd.
---
Britain's new low-carbon, high-speed railway HS2 will make Solihull one of the best-connected places to live and work in the country, helping support thousands of jobs for local people while tackling climate change.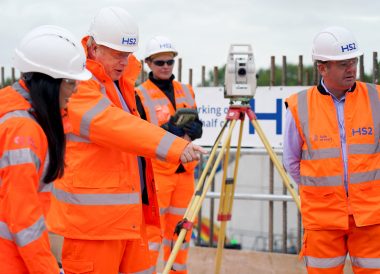 Solihull will be at the heart of the HS2 network thanks to the new 'net zero-carbon' Interchange station, close to the NEC and Birmingham Airport. The borough's strategic importance was underlined when Prime Minister Boris Johnson visited the Interchange site on the day the HS2 building programme was formally launched this month.
A new sustainable gateway for Solihull
Plans for Interchange have been praised for drawing on the historical and agricultural character of the local area, and were approved by Solihull Council last month. The six-track station is now poised to transform local and national links, and ease transport congestion.
Interchange will play a key role in plans by Solihull Council's Urban Growth Company to transform the area, including supporting 70,000 jobs in the borough.
HS2 is helping to reignite economic confidence in the wake of the COVID-19 pandemic and this ambition is matched by environmental commitments to reducing carbon emissions and setting new standards in sustainable 21st century travel.
Interchange will use 'green' technologies, such as natural daylight and ventilation, to reduce its carbon footprint. In fact, the station was hailed a global standard-bearer for sustainability before a spade went into the ground, becoming the first station in the world to achieve 'outstanding' certification under the Building Research Establishment's Environmental Assessment Method (BREEAM). This will put Interchange in the top 1% of UK buildings for its eco-friendly credentials.
Solar panels will produce zero-carbon electricity while rainwater will be directed to a giant tank for reuse for the station's water supply.
Better connectivity
Located in a new 340-acre development called Arden Cross, Interchange's four 400 metre platforms will be served by 10 trains an hour when the full HS2 network is up and running. Residents, businesses and visitors will benefit from massive improvements to connections to the North and the South.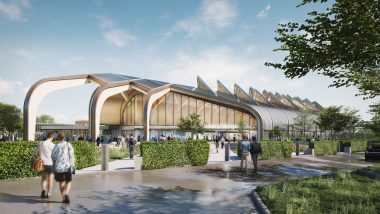 Journeys to London will take just 38 minutes, a saving of 32 minutes – and HS2's 225mph trains will take passengers to Manchester in 39 minutes, cutting more than an hour off the current fastest trip. Services to Leeds will take just 46 minutes – about three times quicker.
Interchange will be easy to get to from across Solihull, with plans being developed to extend the Sprint bus scheme and the West Midlands Metro tram. Meanwhile, buses and cyclists will all benefit from road improvements.
New jobs and skills
Arden Cross, home to Interchange, is a proposed centre for research and innovation and will support jobs in high-value manufacturing and production, hospitality and leisure, as well as new homes.
It is part of a wider development called The UK Central Hub, which is being developed by the Urban Growth Company and includes HS2, the NEC, Birmingham Airport, Birmingham Business Park, the Jaguar Land Rover plant and Birmingham International station, itself set for a major redevelopment. The Hub is poised to support a total of 70,000 jobs.
HS2 will enhance Solihull's reputation as an international destination thanks to an automated people mover (APM), which will link Interchange to Birmingham Airport via stops for Birmingham International and the NEC. The APM's elevated 1.4 mile (2.3km) route, transporting 2,100 people an hour in each direction, will take international travellers between Interchange and the airport in six minutes.
Although HS2 will be a catalyst for future growth, it is already boosting jobs in Solihull. More than 150 people are working at the Interchange site, preparing the ground, and major construction feats have included HS2's first major permanent structure, a bridge spanning the M42. About 450 West Midlands' businesses have worked on HS2 to date.
Andy Street, Mayor of the West Midlands, said: "HS2 is creating jobs right now in Solihull and work and training opportunities for local people will increase as the project expands. The new Interchange station will be easy to get to by environmentally-friendly public transport and it will underline Solihull's status as an international gateway."
HS2 will also reduce congestion on the town's surrounding rail and road routes – and cut carbon emissions – by creating more space on the existing rail network for local, regional and freight services.
Being a good neighbour during construction
HS2 Ltd, the company building the railway, is working to safeguard biodiversity by protecting wildlife and planting new woodland as part of a 'green corridor' along the route.
More than 15,000 ecological surveys have been completed or are due for completion across the West Midlands by the end of the year. In Solihull, HS2 Ltd is supporting protected species including bats, great crested newts and badgers, as well as important bird, plant and invertebrate species.
The Birmingham-based company is also committed to working with local people to help with any questions during construction. Julie King, HS2 Ltd's Community Engagement Director, said: "We aspire to be a good neighbour every day as we prepare the route for HS2 and move into the main construction phase for the railway and Interchange station.
Our HS2 Helpdesk team is always available on 08081 434 434 or people can email us at hs2enquiries@hs2.org.uk."
More information on HS2 in Solihull is at: hs2insolihull.commonplace.is
Click here to see Andy Street, Maria Machancoses, Sabiq Bhatti MP, Cllr Ian Courts, Paul Faulkner and Nick Brown discussing the benefits of HS2 to the people and region of Solihull and the West Midlands.