Solihull Council's award winning 'School Streets' scheme is being launched at three more schools ready for the start of the new school term in September.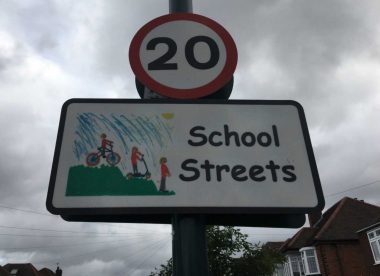 The scheme, which restricts traffic on roads leading to certain schools at the start and end of the school day, aims to promote sustainable and healthy travel for school children. It also helps to address traffic problems and pollution issues at the school gate which are common concerns for many parents, schools and pupils.
Phase 2 extends School Streets to selected roads around Widney Junior, Marston Green Junior and St Andrew's Primary schools, where a new permanent 20mph speed limit for all traffic will also be introduced.
This second phase of the scheme was due to start in April, following a consultation with residents, parents and carers earlier in the year, but was delayed due to Covid-19.
Cllr Ken Hawkins, Cabinet Member for Environment and Highways, said: "I am really pleased to roll out our successful scheme to a further three schools.
"These measures will make it safer and more pleasant for everyone around the schools, which is even more important as we navigate these difficult times.
"It's brilliant to see projects like School Streets now receiving recognition by the Government, who are promoting this type of scheme as part of the Covid-19 Emergency Active Travel toolkit.
"As all year groups will be back at school for the first time in many months, we are also making sure we continue to promote active and safe ways for everyone to travel to school in a Covid-secure manner."
Residents in streets closed to traffic will need to display a valid permit to drive in the zones between the times that the restriction is in force. Further details on the restriction and times they apply can be found here.
Blue badge holders residing at or visiting properties within the restricted roads will be exempt from the School Streets restrictions.
For more information, visit www.solihull.gov.uk/schoolstreets.
---
If you live on the streets affected you will need to display a valid permit in your vehicle to drive through the zones during the restriction times listed below.