Over the last few months, Solihull Moors FC have been reaching out to local companies and businesses to support them ahead of their upcoming campaign.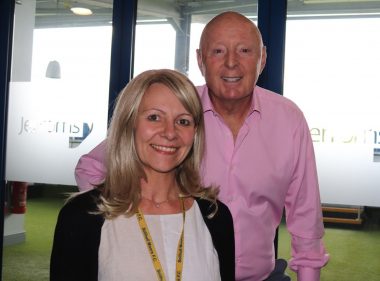 With their front of shirt sponsorship up for grabs, over 30 companies pledged £5,000 to see if they would be the lucky one plucked from the tombola.
Comedian Jasper Carrott was on hand to carry out the formalities and oversee the draw which took place at the SportNation.bet Stadium.
When Jasper was asked if would be following Solihull Moors this season he said: "Well I've been a couple of times and I do follow them.
"This is my area and if Solihull Moors do well it will be great for the area… with business and industry."
He then playfully quipped: "If you get into the league, I'll probably come down more!"
In total there were three spots to be decided – shorts sponsor, back of shirt sponsor and the coveted front of shirt sponsor. You can watch the draw unfold by clicking HERE.
The results were as follows:
3rd – Shorts Sponsor – The Nags Head (Henley-in-Arden)
2nd – Back of Shirt Sponsor – Britannic Security Systems Ltd
1st – Front of Shirt Sponsor – Primrose's Kitchen
Taking the top sponsorship spot, Solihull Moors will be sporting the name of Primrose's Kitchen, a company geared towards providing natural and organic food.
A representative for Solihull Moors said: "We are delighted to welcome you on board and overjoyed to be promoting such an inspiring business.
"We would also like to extend our congratulations to the Nags Head and Britannic Security Systems, today's other worthy winners.
"As for those who weren't so lucky, everyone at the club would love to thank you for your support and we look forward to working alongside you this season – there's still plenty in the package to excite you and for you to benefit from in the coming months."
New short sponsors, the Nags Head also received a celebrity endorsement from the well known comedian. When their ball was drawn Jasper exclaimed: "Wow, that's one of my locals! Happy days."
Photo credit: Solihull Moors FC