West Midlands Police were called to reports of a stabbing at around 12.30am on Sunday in Birmingham city centre.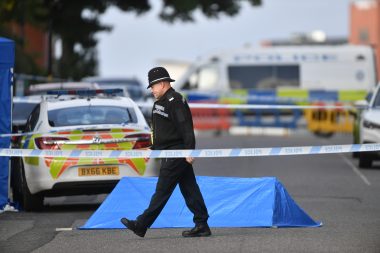 Officers added a number of other stabbings were reported in the area at around the same time.
One witness, Cara, told BBC Radio Five Live she thought it was "one group of boys against another group of boys".
She told the station she had heard racial slurs during the incident, adding it was a "multicultural night" in the clubs near the Arcadia complex.
She added: "They were not just having an argument and then fighting, it was straight into fists being thrown. There was not much talking going on.
"Drinks were being dropped, bottles that they had obviously bought in the club, rings were falling off so jewellery was going everywhere, clothes were being torn.
"One of the males actually ended up with his hair being pulled out and left with a bald patch."
The majority of Birmingham's Hurst Street has been taped off by police, in an area which had already been closed off to traffic to aid social distancing.
Several yellow police evidence markers could be seen on the ground, some near to broken glass.
Two forensic tents had also been sited in nearby Irving Street, close to the gates of a primary school.
A police statement issued this morning said: "We can now confirm that we've launched a murder investigation following the events in Birmingham city centre overnight.
"A man has tragically died. Another man and a woman have suffered serious injuries and five others have also been injured, although their injuries are not thought to be life-threatening.
"We believe the incidents, which took place between 12.30am and 2.20am, are linked and we're doing all we can to find whoever was responsible."
The West Midlands Police statement added: "We continue to hold a number of scenes across the city, including Livery Street, Irving Street and Hurst Street.
"We're urging anyone who witnessed anything or anyone who has any CCTV or mobile phone footage to get in contact as soon as possible, as the information you have may be crucial to our investigation."
The West Midlands Police and Crime Commissioner David Jamieson, said: "Last night's events are truly terrible and have  shocked the people of Birmingham, the West Midlands and the country.
"My first thoughts are with the victims and their families at this time.
"I have every faith in West Midlands Police who are working extremely quickly on this investigation.
"My thanks also go to the ambulance and hospital staff who are working around the clock to help those who have been injured."
---
Pic Credit: Press Association