In the UK, one in every 250 pregnancies ends in a stillbirth, a higher frequency than that of cot death. It equates to eight babies every day and yet many of these are potentially avoidable deaths. 60% of stillbirths are still unexplained.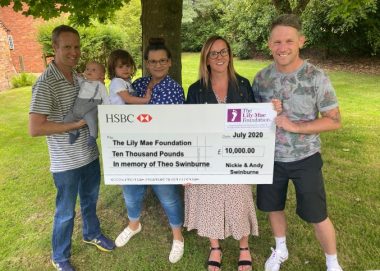 On 25th July 2016, Nickie and Andy Swinburne from Fradley, attended Queens Hospital in Burton after reporting reduced movements at 41+1 weeks gestation. Their son, Theodore, was stillborn later that evening after staff in the hospital missed critical warning signs that their baby was in distress.
The Serious Investigation Report published by the Trust concluded that the root cause of Theo's death was 'a period of terminal asphyxia.' The couple say "their world crumbled around them" as they tried to deal with the loss of their son when only a few hours before all had been well at a midwife appointment.
Derby & Burton Hospitals NHS Foundation Trust, which runs Queen's Hospital, admitted liability in 2018 and the case was settled in full only a few months ago, shortly before Theo's fourth birthday.
Nickie Swinburne (36) and Andy (37) are now using their settlement to support the charities that have supported them including handing over a £10,000 cheque to The Lily Mae Foundation on what would have been Theo's 4th birthday.
Charity founders Amy and Ryan Jackson set up The Lily Mae Foundation which is based in Balsall Common following the tragic and devastating loss of their daughter, Lily Mae in 2010 to stillbirth at full term.
The charity supports parents and families who have suffered the loss of a baby to stillbirth, neonatal death, miscarriage or medical termination.
Ryan and Amy said: "To receive such a generous donation during the current difficult times is thoroughly appreciated. "Nickie and Andy should be incredibly proud of the dignity and resilience they have shown throughout their journey of grief and all that they have achieved in memory of Theo.
"The financial support they have been able to offer will certainly help us to continue our vast amount of support programmes that we provide to bereaved parents and their families following the loss of a baby. We will be forever grateful for their support."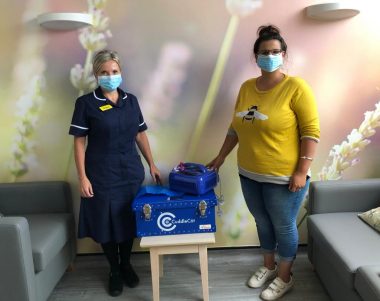 In addition to supporting the Lily Mae Foundation, Nickie and Andy have also donated a cuddle cot through the charity 4Louis, to Good Hope Hospital as a thank you for their support during the subsequent pregnancies of Theo's little sister Philippa (age 2) and baby brother Sebastian (3 months).
Nickie and Andy told the Observer: "Taking up a legal case against the Trust was not something we had originally planned on doing. "We know that bad things can happen in all hospitals. Unfortunately, after receiving the incident reports from the hospital, the scale to which errors were made that night became very clear and it was important to us to ensure that the same thing never happened again.
"Our priority became ensuring that liability was admitted so that lessons could be learnt. We had to fight for Theo's little life, the life that was cruelly taken away from him, from us.
"We therefore decided early on that we would use a significant portion of any settlement that was given to us to help the charities that helped us to find a new version of ourselves again. For us it is also another way to keep Theo's memory alive.
Nickie continued: "He is never far from our thoughts and is always in our hearts but as time passes there is also a fear that he could be forgotten. So being able to support charities in his name leaves a little legacy behind. We chose to donate £10,000 to The Lily Mae Foundation to help them to support other bereaved parents as they have supported us.
"The Foundation is proof that there is amazing support out there if you can be strong enough to look for it.
"Not being able to celebrate Theo's birthday with him or watching him grow up will always leave us with a massive feeling of loss. But we hope that by helping charities in his name he will continue to live on through others."
For more information on The Lily Mae Foundation please visit their website: www.lilymaefoundation.org