THE OLDEST cat who has ever been in RSPCA care is looking for the purrfect retirement home at the age of 21.
Morag is at the Worcester and Mid Worcestershire branch which took the elderly cat in as her previous owner could no longer care for her.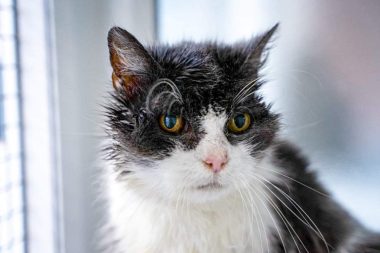 Morag is the equivalent of 100 in human years and was very matted on arrival at the rehoming centre in Worcester. Some of her coat had to be shaved off to make her more comfortable.
But despite her advancing years and her slightly scruffy appearance, those caring for her say she is surprisingly lively and mobile and doesn't sit still for long.
Described as having an extremely loving nature, Morag is enjoying the company of her new human friends and enjoys visitors coming to her pen to say hello and make a fuss of her.
Claire Wood from the branch, said: "We've looked at our records and we think Morag is the oldest cat to have ever come into our care.
"She's a real sweetheart and is enjoying all the attention that she's getting from the staff at our rescue and rehoming centre.
"But of course a cattery is not the ideal environment for such an elderly cat and we hope that someone will come forward very soon to offer Morag a loving forever home for however long she's got left.
"All she wants is someone who can offer her a warm, loving home, somewhere comfy to sleep, good food and a nice secure garden where she can go outside and enjoy some fresh air."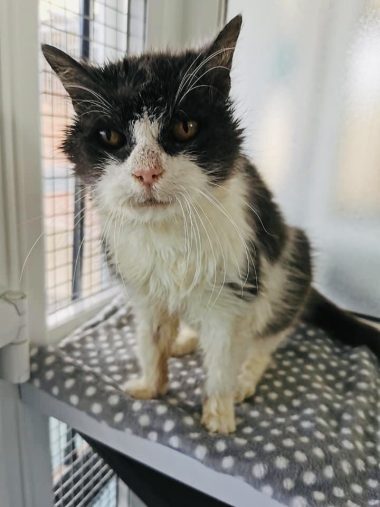 Due to her advanced age, Morag needs a home without young children and other pets with someone who is going to be around the majority of the time.
Already this year, the Worcester branch has found homes for seven elderly cats with a combined age of 100, including Violet (16), Joy (15), Angel (11), Holly (10), Teddy (10) and siblings Barbara and Bernard (both 19).
Other golden oldies currently looking for their new homes include Marcus (12), Otto (11) and Mabel (10).
Claire added: "We rehomed seven senior cats last month alone and we're incredibly grateful to the adopters who welcomed them into their lives.
"Age really is just a number and rehoming an older pet can be incredibly rewarding.
"You're giving them the best possible life in their twilight years and we will always do our utmost to ensure a happy ending for every animal that comes into our care, young or old."
Anyone interested in offering Morag or any of the other senior cats a new home should call 01905 821272 (option 2) or complete a perfect match form on the branch's website.
Formed in 1911, the Worcester and Mid Worcestershire branch of the RSPCA is a separate charity in its own right. The group cares for hundreds of animals every year, many of which have been abandoned, abused or neglected, as well as those whose owners have died or whose circumstances have changed.
The branch rehomes cats, dogs, rabbits and other small furries across a large area including Worcester, Malvern, Droitwich, Redditch, Bromsgrove, Henley-in-Arden and surrounding districts.
To help the RSPCA continue rescuing, rehabilitating and rehoming animals in desperate need of care please visit our website or call our donation line on 0300 123 8181.