There are a number of factors to consider if you're thinking of getting invisible aligners…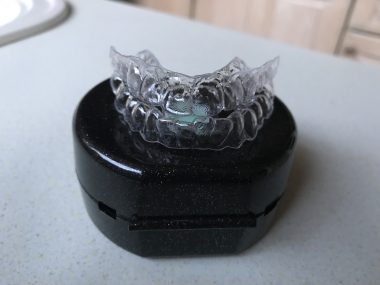 Has all the Zoom and Skype action this year left you wishing your pearly whites were a little less crooked?
If the boom in video calls has highlighted any insecurities around your smile, you may have looked into the at-home teeth straightening options that have sprung up in recent years.
Usually, people with significantly misaligned teeth will have them corrected by an orthodontist after being referred by their dentist during late childhood or early adolescence, although it's often possible to have some teeth-straightening treatments as an adult too.
At-home kits might appeal to people whose budget doesn't stretch to pricier options, or who don't like going to the dentist – and we're talking transparent 'aligners' here, rather than train-track braces that are affixed to the teeth.
These aligners tend to be suitable for people with more minor crookedness. If teeth are severely misaligned, and/or there's significant over-crowding or issues with the position of the jaw, more comprehensive treatment will be required.
But are at-home teeth straightening kits too good to be true, and what about any potential pitfalls you should be aware of?
Are at-home teeth straightening kits a good idea?
However tempted you might be by the idea of at-home teeth straightening or DIY braces, it's not something you should rush into without doing some research.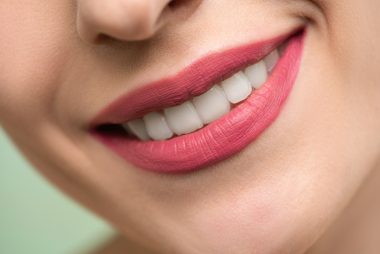 The General Dental Council (GDC), the statutory regulator of dentistry in the UK, set up primarily to protect patient safety, issued a statement in February on the rise of 'direct-to-consumer orthodontics'.
At-home braces are relatively new and the GDC said they 'are continuing to gather evidence about the potential risk of harm to patients' but highlighted concern for any services 'which may not include face-to-face patient contact with a registrant authorised to provide direct services to patients'.
Having a proper consultation before treatment is important as it enables necessary assessments to be carried out, to ensure any treatment is suitable, and to check your general oral health and whether there are any other issues that may need to be addressed. Consultations also give 'patients the opportunity to ask questions', the GDC added, so you can make an informed decision.
In addition, the Safe Brace campaign (dentalhealth.org/safebrace) was set up to help keep people informed on safe orthodontic treatment, and 'warn against the potential hazards' associated with 'DIY dentistry'. Packed with information on important things to consider, it's definitely worth having a good look through the campaign's website.
So, what is the appeal of at-home teeth straightening?
Cost might be a big factor. For example, Invisalign (invisalign.co.uk), said to be the most popular clear aligners brand – treatment is supervised by a trained dental practitioner – generally costs from £1500 to £5500. Patients can ask their dentist about what clear aligners treatments they offer, or find dentists or orthodontists in their area offering specific brands by searching online. You're usually looking at closer to £3000 upwards.
For at-home kits meanwhile, prices can vary but generally cost around £1,500 plus extra for the impression kit (needed to get a mould of your teeth) and possibly the retainers needed at the end of the treatment.
What if at-home kits are offering a remote consultation?
As mentioned above, experts advise caution over any DIY dentistry where there's no proper consultation.
Some at-home straightening brands might offer an online consultation, perhaps asking you to supply photos of your teeth to check for 'suitability' before asking you to fork out money on the full kit.
They may ask for some history on your general oral health too and whether you've had a dental check-up recently.
This might be better than nothing – but it's important to remember that, according to bodies like the GDC, this isn't really a substitute for the real thing.
Review: 'I tried at-home teeth straightening'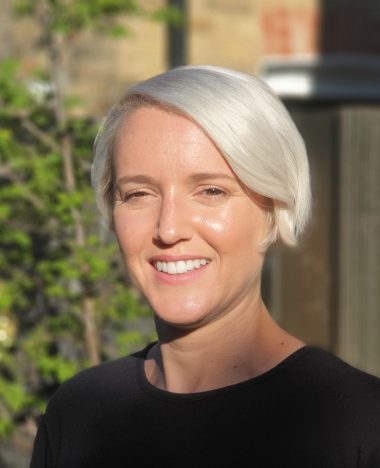 Katie Wright (right) sorted her smile with clear aligners from Straight Teeth Direct (straightteethdirect.com). Here's how she got on…
Katie says: "I had train-track braces aged 15 but gradually, my teeth started to cross over again, the lower row being slightly worse. It may not have been hugely noticeable to others but by the end of my 20s, I was so unhappy with how my teeth looked that I hated smiling in photos – so the idea of clear aligners really appealed.
"Straight Teeth Direct offer treatment for £1,350 (including retainers; the impression kit is an extra £42). Before starting, I'm asked to have a dental appointment (organised independently myself) and send a copy of my records to show I didn't have any outstanding problems. I also have to send some photos of my teeth before being given the green light (according to Lucie Marchelot Shukla, co-founder of Straight Teeth Direct, around 70% of people who go through this stage are accepted).
What happens next?
"I receive a home impression kit, which comes with instructions on how to mix two sachets of putty and press the mixture into the plastic trays to make moulds of my teeth. I send them off in the envelope provided, then a couple of weeks later my box arrives, containing my first few aligners.
"The aligners are 3D printed, each designed to move my teeth gradually over several months, changing to a new aligner every two weeks. They have to be worn for 22 hours each day, so I can take them out to eat and brush my teeth."
Does it hurt?
"At first, the aligners feel tight and a bit uncomfortable. This happens each time I change to a new aligner too and sometimes my teeth feel tender the next day when chewing, but that eases after a couple of days, though I wouldn't say the process was really painful. The most annoying thing was the aligners gave me a bit of a lisp, but that also settled once I adapted."
How long does it take?
"Marchelot Shukla says 'average treatment time is five to nine months' but some cases can take longer. My treatment was predicted to take seven months. I receive a message each month asking me to send photos of my teeth, to check I'm on track and so the next aligners can be tailored according to my progress.
"However, in the end, my upper arch takes around nine months and lower teeth closer to 15 months. After my final aligners I'm sent a pair of clear retainers which have to be worn every night for six months, then three nights a week after that to ensure my teeth don't move back."
Verdict
"Ultimately, I'm pleased with the experience – although it's important you do your own research and make an informed decision that's right for you. It may have taken longer than expected, but now that it's done, nothing can stop me grinning in photos."
By Katie Wright and Abi Jackson
Photo Credits: PA Photo/Katie Wright