The UK's newest music festival Sunshine at the Pavilions Club in Kingshurst launches with a bang on Bank Holiday Monday (30 August) raising money for charity. 
Featuring a stellar line up of music legends such as Grammy winning soul singer Junior Giscombe, Soul II Soul's Jazzie B, rapper Lady Leshurr and reggae star Janet Kay, the event promises to be "the Ultimate Feel-Good Music Festival" and a day to remember after lockdown life.
Working in conjunction with Solihull Borough Council, money raised from the festival will go towards local good causes such as afternoon tea dances for the elderly and workshops for local youths. The festival is also supporting Women's Aid for domestic violence, Stand Up for Cancer and the Alzheimer's Society.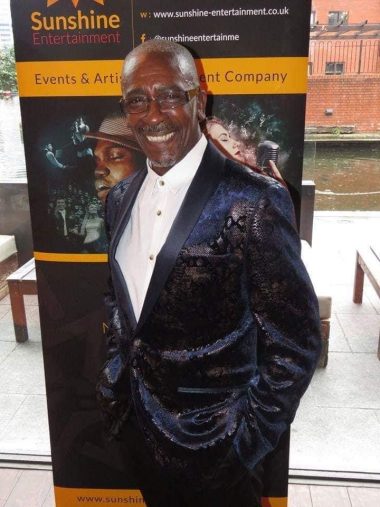 The Solihull Observer caught up with festival headliner soul legend Junior Giscome (right), the man behind the chart topping hit 'Mama Used To Say' to find out how he's feeling about getting back on stage, what he's been up to during lockdown and if he really wrote his Mama Used to Say megahit in less than ten minutes… 
Now that it looks like life and shows are starting to get back to normal, how excited are you to get back out on stage?  
So excited! I've missed people. It's been 17 months and if you're a performer and not able to do the thing you love the most it's been hard so I'm very excited. I can't wait to get back out there!
What have you been doing during lockdown to stay occupied? 
I've been doing a lot of writing. I've done two songs for a French band called A-P Connection which are doing pretty well in the Amazon Charts. Then there's a new album coming out called Re-Discovered. It's all 80s artists…it's an album of great songs and a great project featuring the likes of Sinetta, Kym Mazelle, KiKi Dee, Five Star… (pre-order here). So I've been busy… but lockdown has also given me time to sit back and write.
You've also got a new single out? 
Yes I've also put out my own album through my website: www.juniorgiscombe.co.uk. I decided it was time to make the album I've been sitting on for a little while. I've also enjoyed making videos for the singles. The first single is a remake of Mama Used to Say featuring Luciano and Stephen Marley. The second single is the Change is Gonna Come and now we're at the third single Step Off, I decided to put out the album. The album's called Everyting Set and also available on my website.
Is it true you wrote the mega hit Mama Used to Say in less than ten minutes? 
Yes it is! When I was about 22 or 23… a young lady walked into a shop where I was working. We started talking and I asked her age. She said she was 18 so I said I was 20 as I thought she'd think I was too old. When I got home I told my mom and we laughed about it. She started telling me "don't you rush to get old, don't you rush young man." It was what Mama used to say. It was all just very clear. So yes about ten minutes it took to write that song.
Have you followed all of your Mama's advice in life? 
No! (Laughs)
When you wrote it did you realise it was going to be the mega hit it was? 
I didn't realise it at all to be honest. I'd written another song called 'In Words' that I thought was a better song but the record company said "no, we want to go with this. We're going to prove to you this is the better song." And they did! (laughs).
What can fans expect from your show at the Sunshine Pavilion Festival? 
They can expect a very excitable Junior! (laughs) We're going to sing together, we're going to dance together, we're going to have fun. We're all going to have a great time. Lots of energy, lots of fun and just a really great day so I really hope to see everyone there!
Other artists appearing at the festival include Lady Leshurr – the fast rising rapper recently seen on BBC TV's Dancing On Ice and winner of Channel 4's Celebrity Circle. There will be DJ sets from Soul II Soul's head honcho Jazzie B and John Simmit. Reggae star Janet Kay will be showcasing her biggest hits as she celebrates her 40th anniversary in music, UK soul pioneer Omar will be performing and Kezia Soul will be bringing her sultry soulful vocals to her hometown following her successful recent stint on BBC TV's The Voice.
This festival will be a family event with craft stalls and street food available. The event will take place on Bank Holiday Monday 30 August 12-8pm at The Pavilions Field, Meriden Drive, B37 6BX.
For tickets click here.
For more information go to the Festival's Facebook page here.