I reviewed the inaugural production of Obsidian a couple of years back and was impressed then with the emergence of a very exciting new young theatre company.
On returning to see them last night I was delighted to see that, with a few productions under their belts, they have blossomed into a high-energy, physical, tour-de-force of a theatre company.
American Idiot was a controversial musical when it first hit the stage just after 9-11 and in this renaissance it's certainly a timely voice for today's one-minute-to-midnight world where coming of age has never been such a scary place.
The story follows three friends – Johnny (Robert Bateman) goes from small town angst to the big city blues where he falls in love with drugs and a woman, Tunny (Dylan Norris) joins the armay and Will (Bev Fitzpatrick) stays at home with his pregnant girlfriend Heather (Darcy Humphries).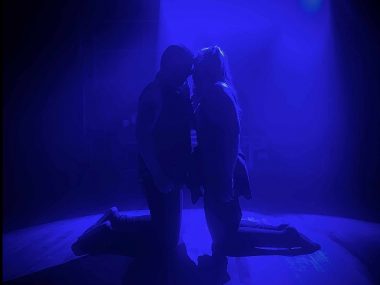 American Idiot is powerful fodder with a multitude of challenges (some unscripted on opening night) which the company embraced like true warriors.
---
---
They never faltered and worked the bijou space of the Dovehouse Theatre like it was a wrestling ring where they literally bounced from every corner.
There is little dialogue and it takes a few numbers to get into the plot but that's actually a very clever plus.
Females tend to get a bit short-changed in the song distribution but then I suppose Greenday were all guys.
Musically it's powerful and Phil Ypres Smith as MD does justice to an awesome score. My special shout out goes to the relentless battle drumming from Henry Wakeley.
It seems churlish to leave anyone out of a mention in this superb team that Robert Bateman has put together so let me say that you have done him as proud as he has you – top team.
My one niggle was with the sound where quite a few important mic cues were missed – it's a pet hate of mine and I believe that the operator should know the script as well as any actor and have lots of technical rehearsal time.
In addition to the very capable Bateman, Bethany Waller-Scott and Emily Banks bring imagination to the choreography and likewise Dermit Finnegan's complex lighting and FX designs.
The songs are loud – some of them scream at you and the lyrics and actions are not just vulgar they're downright dirty. In my opinion that makes it simply tasteless and quite delicious.
I thoroughly recommend all my thespian followers and chums that you make a pilgrimage across to Solihull this week for both this unique piece of theatre and to discover the continuously emerging talent that is Obsidian Theatrical Productions.
Green Day's American Idiot runs until Saturday (September 9). Click here for times, tickets and more information.
****
Review by Euan Rose
Euan Rose Reviews