FRESH from a name change and hot on the heels of latest single 'Two Fingers', Sea Power (formerly British Sea Power) return to these shores with 'Everything Was Forever' – a triumphant LP that is the Brighton-based group's first album in five years.
While 'Two Fingers' marked a cathartic new start for Sea Power – they dropped the 'British' part fearing it had been hijacked by insular and jingoistic causes – 'Everything Was Forever' shows a group, still proud of these Isles and feeling lucky to live and been born here, showing they don't need the moniker to remain the 'best of British'.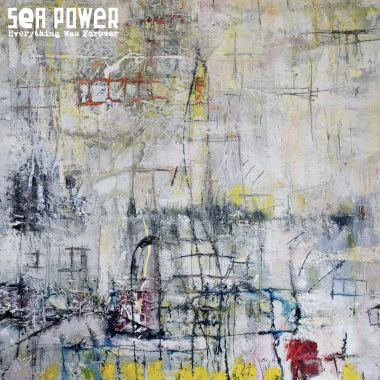 Sea Power have been name checked by the likes of Bowie and Lou Reed in their long and fascinating career which has seen them Mercury-nominated, winning a BAFTA for computer game Disco Elysium and their lyrics become part of a permanent installation at the National Maritime Museum alongside Shakespeare and Coleridge.
'Scaring At The Sky' pitches a mellow and beautiful landscape as the opener for the new LP with all the ethereal and dreamy soundscapes we've come to love from a band who have influenced or been influenced by everything from Editors to Joy Division, David Lynch and even pandemic pop artist Cold War Steve.
'Transmitter' ramps up the pace and has the immediacy of a single suggesting we'll be hearing more of this on the airwaves soon.
Catchy, uplifting and anthemic it sounds like a setlist shoe-in.
The track segues seamlessly into 'Two Fingers' that is a song of both hope and redemption, and its title is a reference to co-frontman Yan's late dad who would drink 'two fingers' in salute to people he saw on the TV, 'two fingers for the dead, two fingers for the living'. An anthem of these uncertain times.
'Doppelganger' recalls the best of Joy Division in sound while the 'come all ye faithful' lyrics are a prayer for the good.
'Folly', with its more electronic undertones, is another radio-friendly track that stands out on first listen to the album as does 'Green Goddess'.
The dreamy ambiences of 'Lakeland Echo' precede 'We Only Want To Make You Happy' which closes out the LP like the heavenly outro to an indie movie.
Free from any national flag of convenience, Sea Power sail forth with 'Everything Was Forever' which brims full of the haunting sounds and hopeful words echoing from a post-war Britain that singers Yan and Hamilton enjoyed – from the welfare state and social housing, to an education free of financial equations.
The group may have started anew but they have brought all the 'best of British' forward with them on their onward voyage.
James Iles
'Everything Was Forever' is out on February 18.