Local hearing care centre launches custom-made masks and badges to help the hard of hearing community.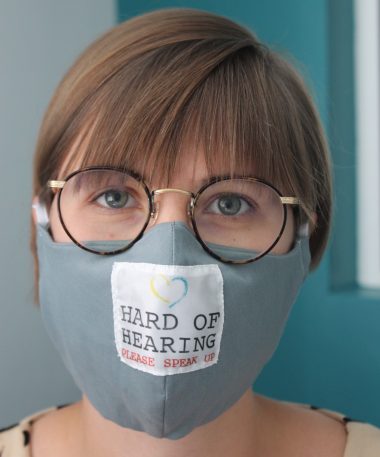 It is estimated there are 11 million people in the UK living with a hearing loss which makes it the second most common disability.
The type and severity of hearing loss differs greatly from person to person, however, it is something that can affect us all.
Many of us will experience some sort of hearing loss as we get older due to wear and tear on the tiny hair cells in the inner ear. Others may experience hearing loss due to regular exposure to loud noise, conditions affecting the middle ear, illness, severe ear wax build up or there may be a family history of hearing loss.
Many people may not even notice their hearing has deteriorated over time and just become accustomed to lip reading or recognising facial expressions.
But according to audiologists having a hearing loss doesn't just affect a person's ability to hear clearly. Being an invisible disability, it can impact on a person's well-being and enjoyment for life.
Social isolation can be a common side effect. It might be gradual starting with avoiding noisy group settings, until a person finds themselves completely withdrawn from the things and the people they love. This in turn can lead to feelings of loneliness and depression.
So it's no wonder these feelings of isolation are becoming more prevalent due to face mask regulations now in place across the country during the Coronavirus pandemic.
More people are facing challenges communicating during every-day tasks such as shopping, and perhaps realising they have a hearing problem for the first time as face masks and screens are creating a barrier masking sound and lip reading.
This is something the team at Isabella Fisher Independent Hearing Care in Knowle, West Midlands started thinking about when they came up with an ingenious way of raising awareness and helping those in their care.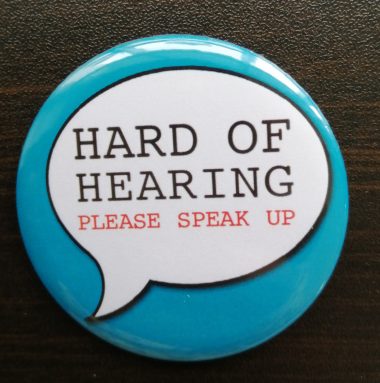 They started offering free badges and masks with 'hard of hearing please speak up' printed on them in the hope it would help businesses with staff in customer facing roles become more aware and supportive towards those with a hearing loss.
Their clever idea has been embraced by their customers and members of the community.
Audiologist Isabella Fisher says: "Many people rely on lip reading, recognising facial expressions and standing as close as possible to compensate for a hearing loss – some without realising it. 
"And now with screens acting as sound barriers and masks muffling sounds, those with a hearing loss are facing feelings of frustration and isolation when they feel they can no longer interact with others.
"This is especially challenging for those without family whose only chance of a conversation is during a visit to their local shop.
"To help raise awareness we are offering people a free badge or mask to wear with the words 'Hard of hearing please speak up' so that so that those they meet in public will understand their difficulty."  
Isabella Fisher's Marketing Manager, Hannah Cotton says the response to the campaign has been astonishing.
She says: "We initially launched the campaign on social media and within minutes of it going live the comments and messages started pouring in.
"It has already received a great response from people wanting masks and badges and also people just commenting how wonderful a campaign it is.
"I am so pleased we are able to do something which helps the wonderful people in our community."
If you feel you would benefit from a mask or badge, you can collect one from their branch at Brisker Court, 1686-1689 High Street, Knowle, West Midlands B93 0LN.   
You can also follow the campaign on their social media at: www.facebook.com/independenthearingcare   
The Isabella Fisher Team: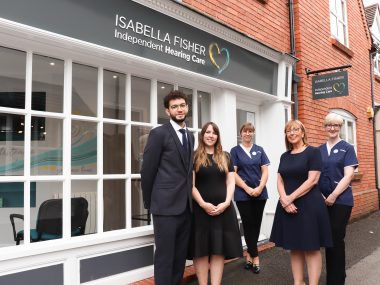 Hearing Facts:   
1 in 6 of the UK adult population is affected by hearing loss.  
Approximately 1 in 3 of these are over the aged of 60.  
On average people wait almost 10 years before seeking help for hearing loss 
Only 1 out of 5 people with a hearing loss wears a hearing aid. 
Hearing loss can have a significant impact on older people leading to social isolation, depression, reduced quality of life and loss of independence and mobility.  
Studies have shown a link between hearing loss and cognitive decline, which can lead to dementia.  
#IsabellaFisher #HannahCotton #Hearing #HearingCare #WestMidlands #Knowle #Solihull #SolihullObserver #ArdenObserver #ShirleyObserver
Claire Bullivant