WIN £100 to spend at Jack's
This January, Jack's Supermarket, part of the Tesco family, is making it easier for you to enjoy healthy and delicious food, without breaking the bank.
For your chance to win a £100 Jack's voucher and find out how far your money can stretch at Jack's, keep reading and answer the simple question.
Hayley, mum of one, did her shop at Jack's Supermarket, on Timberley Lane, where she picked up all her weekly essentials, and more, for just £20.03. For that price, Hayley bought six meals for her family of two plus extras and leftovers! Some of the best buys included chopped tomatoes for 28p, plain flour for 45p and lean beef mince for £2.89.
Hayley explained:
"Drawing up a meal plan and setting aside a monthly food budget helps me keep an eye on my spending, waste less, and save money. Shopping at Jack's Supermarket helps me stretch my budget even further."
If Hayley spent £20.03 on six meals for two people, how much did each meal cost on average?
Entries close at midnight on the 31st January.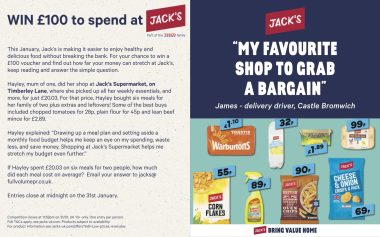 Competition closes at 11:59pm on 31/01. UK 13+ only. One entry per person. Full T&Cs apply, see jacks-uk.com.