Following Boris Johnson's announcement that Brits can return to the physical workplace next week, new research has found that almost half (44%) of workers currently working from home are losing between three and five hours of sleep per night through worry about having to return to the workplace.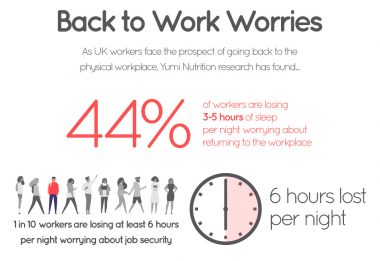 The research carried out by health and wellness company Yumi Nutrition via a reputable independent provider has shed light on the stress returning to work is putting on us while highlighting job security as another key concern as job cuts continue.
More than one in ten workers are now so worried about losing their job that they're missing out on at least six hours of shut-eye each night with financial worries currently keeping over a fifth of Brits up at night. And for furloughed workers, the ongoing anxiety and uncertainty of whether or not they will be returning to work is keeping them up for an average of two hours every night.
When it comes to the reasons for not wanting to return to the physical workplace, 35% of respondents cited having to commute or get up earlier, whilst 27% of people are worried about losing a work-life balance and free time.
The top 5 reasons Brits don't want to return to the physical workplace:
Having to commute / get up earlier
Losing a work-life balance / free time
Having less time with loved ones
Having to attend face-to-face meeting
Seeing colleagues they don't like
It's not just back to work worries that are keeping Brits up at night, with social distancing, loneliness, children returning to school and having to wear a mask in shops also cited as reasons for not being able to sleep.
The top 10 worries keeping awake at night:
The health of themselves and others
Financial worries
Returning to the physical workplace
Job security
Returning to work from furlough
Feeling lonely
Social distancing
Not being able to see friends and family
Children returning to school /nursery
Economic impact of the pandemic
As a result of the multiple worries keeping them up at night, 85% of Brits don't feel well rested when they wake up with respondents now averaging fewer hours of sleep per night than they were getting during lockdown. This lack of sleep is also having a knock-on effect on brits' enthusiasm with only 9% saying they feel motivated at the moment.
Despite the sleeping issues they're facing, just under half (45%) of people say they don't try any techniques to help them drift off.
The NHS offer some useful tips for a more restful night:
Keep regular sleep hours
Going to bed and getting up at roughly the same time every day will programme your body to sleep better. Choose a time when you're likely to feel tired and sleepy.
Create a restful sleeping environment
Your bedroom should be a peaceful place for rest and sleep. Temperature, lighting and noise should be controlled so that your bedroom environment helps you to fall (and stay) asleep. If you have a pet that sleeps in the room with you, consider moving it somewhere else if it often disturbs you in the night.
Make sure your bed is comfortable
It's difficult to get restful sleep on a mattress that's too soft or too hard, or a bed that's too small or old.
Exercise regularly
Moderate exercise on a regular basis, such as swimming or walking, can help relieve some of the tension built up over the day. But make sure you do not do vigorous exercise, such as running or the gym, too close to bedtime, as it may keep you awake. Find out more from the NHS about how to get active your way.
Cut down on caffeine
Cut down on caffeine in tea, coffee, energy drinks or colas, especially in the evening. Caffeine interferes with the process of falling asleep, and also prevents deep sleep. Instead, have a warm, milky drink or herbal tea.
Do not over-indulge
Too much food or alcohol, especially late at night, can interrupt your sleep patterns. Alcohol may help you to fall asleep initially, but it will disrupt your sleep later on in the night.
Do not smoke
Nicotine is a stimulant. People who smoke take longer to fall asleep, wake up more frequently, and often have more disrupted sleep.
Try to relax before going to bed
Have a warm bath, listen to quiet music or do some gentle yoga to relax your mind and body.
Write away your worries
If you tend to lie in bed thinking about everything you have to do tomorrow, set aside time before bedtime to make plans for the next day. The aim is to avoid doing these things when you're in bed, trying to sleep.
If you cannot sleep, get up
If you cannot sleep, do not lie there worrying about it. Get up and do something you find relaxing until you feel sleepy again, then go back to bed.
Make an appointment to see your GP if lack of sleep is persistent and it's affecting your daily life.
There are also various apps you can use to help you sleep better. The NHS have some great sleep apps here. Or Yumi Nutrition has created a 'Bedtime Zone' on its website with a number of resources to help improve sleep including a downloadable sleep diary and a sleep calculator. For all the details go to www.yuminutrition.com.
You can read more about insomnia here.