EVERY TIME I review at the Blue Orange in Great Hampton Street, Birmingham, I make myself a promise to visit this bijou gem of a performing space more often – it's warm, friendly and there's always something original on offer.
Last night it was the premiere of a brand new play performed by an exciting new company, namely 'Physical Education' from Mad Dragon Theatre – all of whom are graduates from the Royal Birmingham Conservatoire. It's also written by an exciting new-to-me voice, Jonathan Houlston.
Houlston offers up his own take on some of the timeless challenges maturing teenagers face. He views it mostly from a male perspective, focusing on the toxicity of lad culture and the stifling pressures to conform to the traditional stereotype of masculinity. It is poignant, funny, pushes boundaries and at times is excruciatingly cruel and caustic.
The setting is the PE changing room of a nebulous school somewhere in the United Kingdom, it matters not where really as this tale and its' characters are universal.
All the lads are members of the football team and are as competitive off the pitch as they are on it by trying to outdo each other in bragging, exaggerating and offering up disgusting challenges.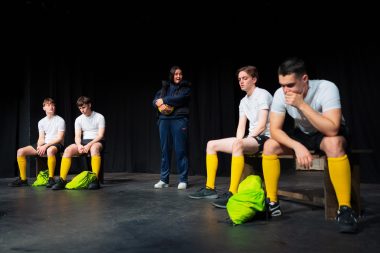 ---
---
There is one though, who stands out though as the numero-uno, alpha-macho role model and that's the ubiquitous Jason. He's the apex of foul-mouthed goadery, feared and revered by the others in equal measures and played perfectly by the charismatic Ossian Lambert Jones.
There are big performances too from Anthony Durnall as the sensitive drama group member Ryan and Regan Winter as Sam. They are in love and denial with each other. Jonathan Houlston brings an all-seeing eye to Joe and is the amiable cement between the lads. James Taheny completes the male line up as Max, who is happy to be a follower; not a leader.
There are three females in the cast; Georgia Ashford Miller as Holly who is one step more mature than all the others and as such is a tad untouchable – conversely Kate Humbles as Millie jumps between being a lovable jester and a self-loathing bike.
Completing the company is Daisy Eva Quick doubling perfectly as the PE teacher Miss Rider and student Lucy.
Houlston also directs this talented and disciplined company. He kicks it off with the speed of an express train with a barrage of banter and profanity that sets the scene, then with the touch of a fine brush brings out the individuality of the protagonists to the canvas.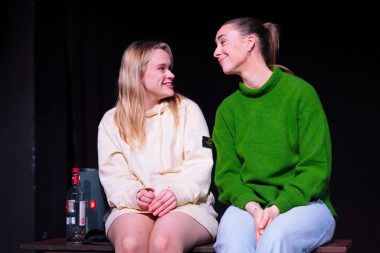 My slight criticism it was a tad too urgent at times – but that takes nothing away from this being one of the best new plays I have seen in a long while. It undoubtedly has legs and will find the right level as it grows.
I encourage you to go and see Physical Education and Mad Dragon if you see them advertised; I'll certainly be following both them – and the pen of Mr Houlston.
****
Review by Euan Rose
Euan Rose Reviews